How to activate your card
How to activate your card
---
Once you have logged in to your account,
you can activate your card easily. This will give you an overview of the available balance or an opportunity to display your PIN or block the card. Just click on ACTIVATE CARD on the initial screen just after login.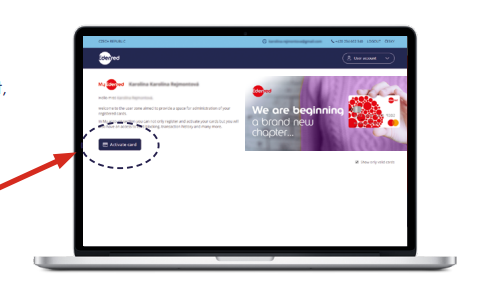 To activate the card you need two pieces of information from the card: the 16-character PAN code from the front of the card and the 10-digit serial number of the card to be found on the back of the card. Click on ACTIVATE CARD.


The third important piece of
information is the activation
code (you will find it in the letter in which you received your card – it is part of the envelope). During the activation, you can also modify the e-mail that will be linked to your card. Once you have successfully entered the activation code, your card is fully active, and if it is also loaded with funds it is ready to pay.


Now your card has been activated and linked to your account – you can use the MY CARDS tab to view the balance or card status, block your card, display the PIN, browse
transaction history or remove the card from your account (which, however, will not block your card).

Notice:
In case you do not have an e-mail address or internet, you can activate your card at 296 363 000 but you will not have access to all the functionalities as through your account.
Haven't found the answer?
Contact our Customer Care Center on e-mails:
or Mon-Fri 8:00 – 17:00 on phone numbers:
+420 234 662 340 for employers and partners
+420 293 363 000 for employees
---
Was this article helpful?
---
What's Next